1/7
Wireless Waterproof Barbecue Thermometer Digital Cooking Meat Food Oven Baking Timer Function Thermometer
Buy Now
Add To Cart
Contact Supplier
Choose your specifcations
$ 7.90 ~ $ 10.00
Please select specification
Quick Details
Shipping:
Support Express · Sea freight · Air freight
Supply Ability:
10000 piece per month
Quick Details
Model Number

TS-K33

Temperature range

0℃-250℃(32℉-482℉)

Weight

228.4g

Usage

Kitchen Cooking

Material

ABS

Color

AS SHOWN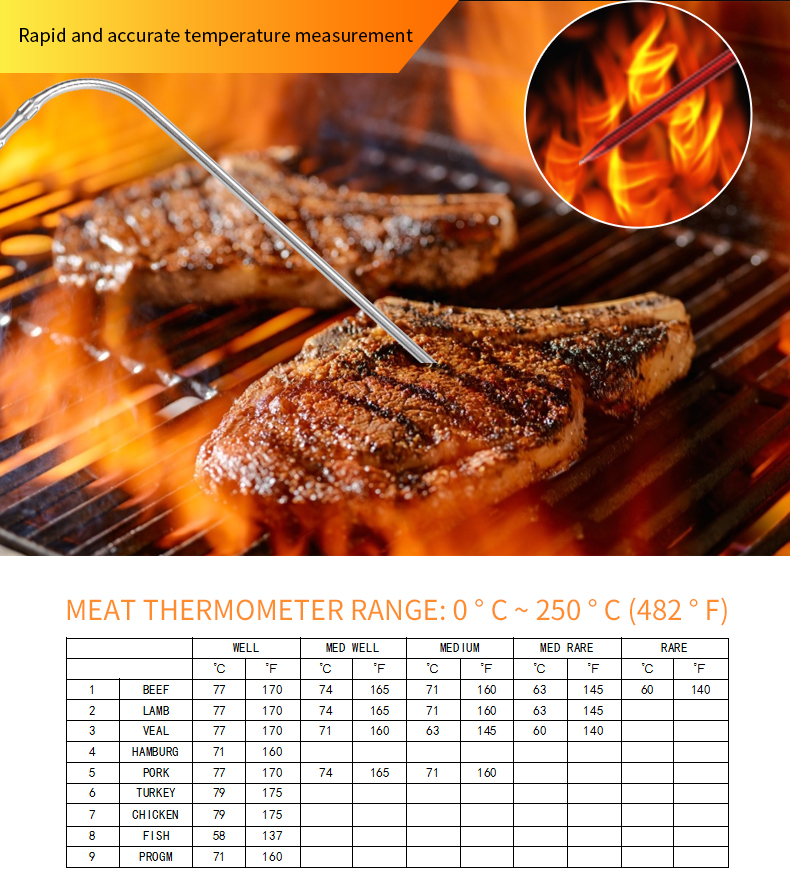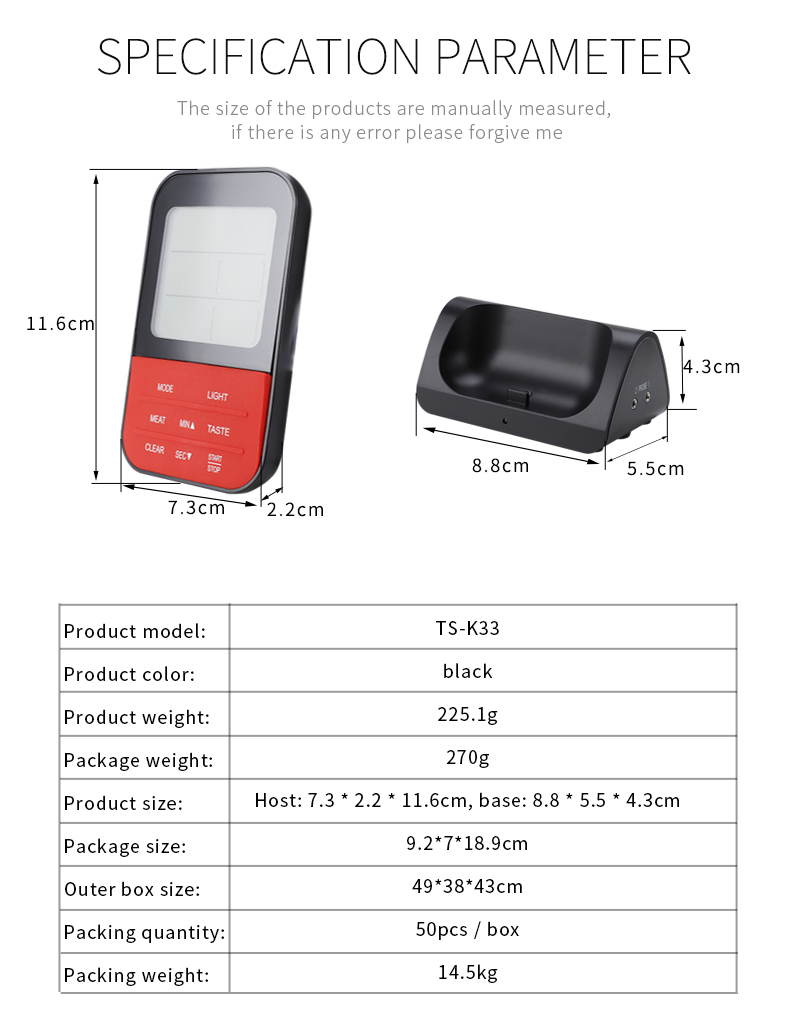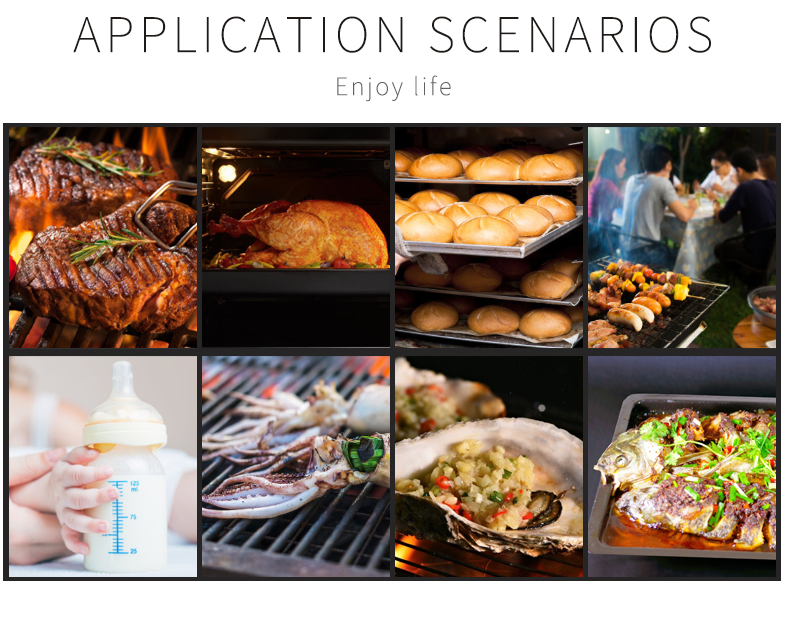 Why you need a wireless bbq meat thermometer?
For novices, it is difficult to control meat temperature when grilling. If it is too ripe, the taste will not be good; if it is uncooked, it will be harmful to the human body. The wireless bbq meat thermometer can perfectly solve this problem. It is inserted into the meat through a probe to measure the internal temperature of the roast. Therefore, wireless bbq meat thermometer is a necessary tool for barbecue.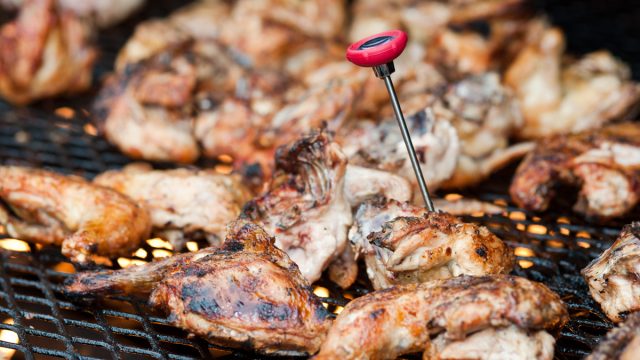 Do you need a meat thermometer?
Many grilling people will tell you that if you are cooking a small amount of steaks, sausages, hot dogs, etc., you don't need a grilling meat thermometer.
But if you cook a lot of steaks, burgers, hot dogs and sausages, you will find it easier and safer to manage your cooking if you use a meat thermometer.
How to use a wireless bbq meat thermometer?
There are many different types of grill meat thermometers, but they contain the same basic component --- a long probe.
No matter what type of barbecue thermometer you use, its tip probe must be inserted into a part of thick meat, but it cannot touch the bones of the meat, which may make it give a higher temperature.
Here are some of the best temperatures for different meats:
Beef and lamb: unique 125 degrees Fahrenheit, medium 160 degrees Fahrenheit, good 170-195 degrees Fahrenheit
Pork: medium 160 degrees Fahrenheit, good 170-190 degrees Fahrenheit
Chicken: good 170-190 degrees F (chicken should be good)
Ducks: unique 125 degrees Fahrenheit, medium 160 degrees Fahrenheit, good 170 degrees Fahrenheit
Steak: rare 135 degrees Fahrenheit, medium 140 degrees Fahrenheit, medium 155 degrees Fahrenheit, good 165 degrees Fahrenheit
Factors to consider when choosing a wireless bbq meat thermometer
Easy to use
An easy-to-read display is very important to ensure that you can see it clearly from a distance. Of course, for most people, barbecue is already very troublesome, so the barbecue thermometer must be easy to clean.
Accuracy
In general, meat thermometers are quite accurate. The taste of meat at different temperatures may be different. Our MJH meat thermometer is worthy of your trust.
Battery
Some digital meat thermometers are powered by button batteries, which can be dangerous if swallowed.
If you use a meat thermometer with a button battery, keep it and any spare batteries out of the reach of young children, and do not let them use the thermometer unattended.
Final words
Grilling is a process that costs many efforts and enjoys delicious food. Well controlled meat temperature is an essential and important thing. We are OEM wireless bbq meat thermometer manufacturer, supplier, factory and exporter, please feel free to contact us for a free quote.
wholesale oem wireless bbq meat thermometer supplier,manufacturer,factory,exporter