1/5
Smoker Grill Bbq Thermometer Kitchen Cooking Food Meat Digital Food Thermometer With 4 Probe
Buy Now
Add To Cart
Contact Supplier
Choose your specifcations
$ 22.00
Please select specification
Quick Details
Shipping:
Support Express · Sea freight · Air freight
Supply Ability:
10000 piece per month
Quick Details
Material

ABS + 304 Stainless steel probes

Brand Name

MJH

Model Number

TS-TP41

Product name

Food Thermometer

Temperature range

0-250℃

Function

C/F,Backlight,Timing,Temperature alarm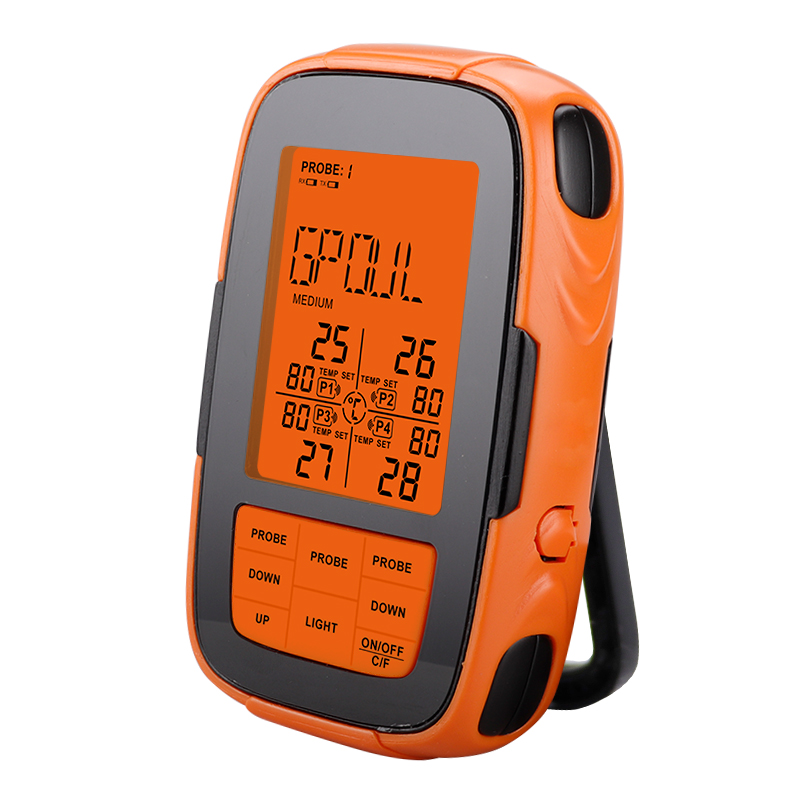 Necessary Investment in Food-Meat Thermometer
The cases of disease in meat are not uncommon, most of which are due to its undercooked meat quality. In large family gatherings, barbecues, steaks, or other cooked foods that are not cooked will affect the health risks of everyone present. Meat thermometer is a good solution, it can measure the internal temperature of meat.
Every restaurant should invest in a meat thermometer
If you are the owner of grilling fresh steaks. Many people like them. But when you cook processed meats (such as burgers or English sausages) and large meat joints, chicken, turkey, and duck, they must be cooked until the indoor temperature is high enough to kill harmful bacteria such as Salmonella and E. coli (two barbecues). Meal disease) the most common cause.
But if you cook a lot of steaks, burgers, hot dogs and sausages you will find it easier and safer to manage your cooking if you use a meat thermometer.

What barbecue meat thermometer to look for
The probe of a meat thermometer should always have a sharp point so that it can be easily pushed into the meat. The above means that this probe can be directly connected to an analog dial or digital display. The dial or display on some thermometers will show the temperature, but there are others which can show the correct temperature for different types of meat.
bbq digital thermometer exporter
From a bbq digital thermometer exporter-MJH
The probe thermometer provides a digital display that can directly read the internal temperature of the meat. The digitally visible thermometer can only use the last cooking time. They are not chefs for keeping food.

If you decide to buy an instant-visible thermometer, make sure it has a good clear analog or digital display, and it has a good response time. Some thermometers require 30 seconds to read. This is a long time, if you want to perform a temperature check quickly.
Our bbq digital thermometer has eight flavors. Its Temperature range is -20-300℃. It is also characterized by wireless transmission function.
If you want 100% accuracy, it is recommended to use a digital thermometer, but the dial and probe machine can also get a good idea of ​​when your meat reaches temperature.
Wireless meat thermometer
From a meat thermometer wireless exporter-MJH
The advantage of the wireless meat thermometer is that it can be carried on the food you grill while cooking, providing instant check of the internal and external temperature no matter where you are. These equipments are very advanced, there are special programs to help you pay attention to and manage your barbecue cooking.
They can measure the temperature range of 0℃-250℃ (32℉-482℉), 5 taste options. Wireless transmission, 20 meters in open space.

Touchscreen meat thermometer
From a touchscreen meat thermometer factory-MJH
Nowadays, touch-screen meat thermometers are indispensable. They can start measuring your meat by touching the screen. Many thermometers have this function. Including the above and the two thermometers you mentioned, they are also touch-screen designs. If you want to find a touchscreen meat thermometer factory, you can find many in China, MJH is such one, welcome to contact us.
How to use a barbecue meat thermometer

There are many different types of grill meat thermometers, but they contain the same basic components-a long probe and a gauge. Investigate long enough to insert the thickest part of the meat and the meter connection (directly or through a wire) can be analog or digital.
No matter what type of meat thermometer you use, the tip probe must be inserted into the thick meat part, but it cannot touch any meat bones, because if it will give an overestimated meat temperature. The sensing area of ​​the detector always clearly shows that it can be from ½ inch to 2 inches long. When considering the length of this sensing area, insert the probe into the meat (that is, make sure it is the center of the meat).
People like to use thermometers to give themselves more peace of mind when grilling and cooking meat. If you choose online, please check customer reviews before buying.
wholesale oem grill meat thermometer supplier,manufacturer,factory,exporter